Trust Company of Kansas Teen Choir
In 2003, Music Theatre Wichita created a new performing group for teenagers with the intent to cultivate local talent and create an environment for youth to grow artistically. The group became an instant sensation, and 2023 will mark the 20th anniversary of this awe-inspiring collection of performers. Since 2014, The Trust Company of Kansas has supported the Teen Choir allowing hundreds of local teens to explore many facets of musical theatre. Each summer, the choir learns music and staging for 5 unique presentations and delivers over 35 concerts. In 2014 the choir was honored by Wichita's Arts Council for outstanding work. The Trust Company of Kansas Teen Choir is a strong and supportive network of young people who enjoy coming together to make music and perform. Join us before a summer production performance and  experience a youth performance that's definitely Broadway and uniquely Wichita. 

Greetings Teen Choir Members!
We are busy getting ready for the upcoming season and are excited to be able to bring Teen Choir back in full force after the past two years of uncertainty! We will be continuing with the rehearsal process that we implemented during COVID.
This year Joshua Larson will be the Staging Director and Emily Sternfeld-Dunn will be Musical Director.
In addition to the required attendance at all rehearsals and performances for your selected choir(s), you will need to come prepared. This includes having your music printed out, your part learned, the music memorized, and the choreography learned. Starting on May 1, each medley will be available on our website where you can download and print out the sheet music as well as follow a link to the choreography. You will also have access to learning tracks: individual parts, accompaniment, as well as the entire medley with the accompaniment.
The choir will have virtual rehearsals with Emily the week before the shows and during show week, we will rehearse on Mondays from 6:00pm-8:00pm and then on dress rehearsal Tuesdays from 5:30pm-dress rehearsal. This will free up weekends for choir members and give families a little more freedom during the summer while still being involved with MTWichita.
We will be having short-sleeved tees again this year as our shirt. Each choir member will be given one shirt for the entire summer. Replacement or extra shirts will need to be purchased from MTWichita. Each choir member will be required to wear nice blue jeans (not baggy and no holes). We will be tucking in our shirts, so a black belt and black shoes and black socks (that cover your ankles) will also be required.
If you are involved with a show as a teen performer or Apprentice, we highly encourage you to be a part of the teen choir at the same time. There may be certain departments in which concurrent participation in teen choir will not be feasible. More information will be provided as the season approaches regarding which departments will allow for apprentice and teen choir participation.
Everyone is required to attend all rehearsals and performances (virtual and in person) for the choirs in which you participate. Please do not ask to be the exception. If you forget or are unable to come to the first rehearsal, please do not show up at the next rehearsal and try to participate.
All members need to come with sheet music printed out and in a binder (or in a digital format that can be marked), with all lyrics and vocal parts memorized. If a teen choir member does not come with sheet music in a binder, and/or they are unprepared with their music, they will be asked to leave and not participate in the teen choir. They will also not be allowed to participate in any of the remaining choirs for the 2022 season.
Always come through the stage door (connecting door between Expo Hall and Century II). If we do not meet in the Dance Studio (Meeting Room 102) we will meet in the Rehearsal Hall in the basement.
In-person rehearsal times will always be show weeks on Mondays from 6:00pm-8:00pm and then on dress rehearsal Tuesdays from 5:30pm-dress rehearsal. Call time before shows will be 45 minutes before curtain. Please check schedule for virtual rehearsals. These rehearsals are mandatory. Sunday Supper call time will be announced during rehearsals. We are invited to eat dinner with the company and crew between the two shows on Sunday. The choir will perform for them at this time also – it is a great experience! After we perform at the Sunday Supper the choir will head back to the dance studio and participate in some educational workshops before performing before the evening show.
Everyone is required to sign in before each performance/rehearsal.
No guests or friends backstage, at rehearsals, at Sunday Supper, or in the rehearsal hall.
Approved and appropriate costume (teen choir shirt, nice blue jeans, black belt, black socks, and black shoes) must be worn for all performances and dress rehearsal. If a teen does not come prepared in ALL of the appropriate attire they will not be able to go onstage. Instead, they will sing from the wings.
Black closed toe shoes must be worn at all performances and dress rehearsals. For all rehearsals, closed toe shoes must also be worn to be able to participate.
No gum or perfume during rehearsals and performances. Rings, necklaces, earrings, and bracelets are not allowed. Large headbands, bows, ribbons, and other hair accessories are also not allowed for performances. Hair must be out of your face and be generic in style and color.
Each choir you participate in, you will receive 2 dress rehearsal comp tickets and 2 comp tickets for the show. The Teen Choir participant gets into dress rehearsal without a comp ticket so they can bring two additional guests. These tickets will be given out to the teen choir member after Monday's rehearsal. If a teen choir member would like to see the performance besides the dress rehearsal, they must use one of their show comp tickets or purchase a ticket. They do not get in for free because they are a member of the teen choir.
All parents/family/friends that want to watch teen choir MUST have a ticket to the show to enter the theatre and watch. No exceptions will be made.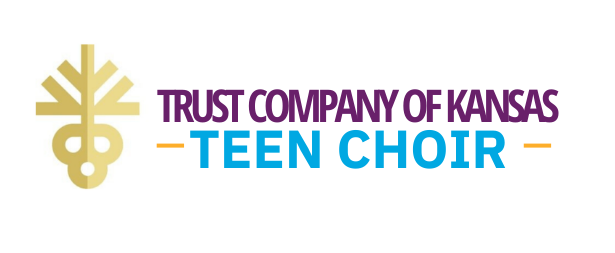 Cami Abraham
Jonathan Banks
Hadasa Barmor
Alyssa Barr
Hudson Benjamin
Amy Black
Maisy Blanton
Morgan Bogard
Bronwen Burch
Whitney Carmichael
Kellen Clinton
Lexye Collins
Topher Cundith
Liesel DeWalt
Gina Difede
Emma Dugan
Ridgley Ehrlich
Juliette Falo
Gianna Fiebach
Agnes Fiebach
Clare Fiebach
Brooklyn Flores
Stefanie Garlick
Ava Graves
Alyssa Green
Ava Griffin
Hope Hadorn
Grace Heinrichs
James Heinrichs
Rebecca Hershberger
Lucy Hershberger
Cam Hodge
Abby Hoglen
Ronni Horn
Acacia Knight
Goldie Lane
Payten LaPoint
Kaitlyn Lemon
Samuel Leopold
Anna Luttrell
Sophie Marcum
Cassidy Martin
Kilian McGaffin
Eavan McLeroth
Camden McQuilliam
Niomi Ndirangu
Taylin Novotny
Elizabeth Packard
Madison Palmer
Madilynn Pawloski
Mary Jo Peterson
Olivia Prue
Kara Reida
Cam Roberts
Madison Schulte
Noah Sickman
Riley Simmons
Allie Snyder
Skye Stauble
Clara Stover-Brown
Eliza Sweet
Emily Swingle
Carmen Thomsen
Isabelle Todd
Enzo Tsen
McKenzie Varenhorst
Gabrielle Walker
Owen White
Ava Wiechman
Lizzy Williams
Sabrina Wilson
Michelle Young
Britton Zavala
Joshua is excited to be the first-ever Education Director with Music Theatre Wichita! He is eager to take his experience over the past 15 years and create a robust educational program at MTWichita. Joshua is also a choreographer and director and at MTWichita he has worked as the staging director for the Teen Choir (2006-present); director/choreographer of Festival of Broadway (2008-2010, 2014-present) and Curtain Up! (2013-2019); and choreographer/adjudicator for the dance portion of MTWichita's national audition tour (2013-2019). Joshua has also worked as a choreographer at Wichita State University, Friends University, and at various high schools, studios, organizations, and theatres in and around the Wichita area. Joshua received his undergraduate degree in dance performance from Oklahoma City University and his Master of Liberal Arts (with a theatre concentration) from Baker University. In his free time, Joshua enjoys taking pottery classes and traveling. 
Emily made her theatrical debut as Fern in Charlotte's Web at Trace Elementary in San Jose, CA. Since that first taste of the spotlight she has continued to perform, while helping others find their singing voice. Emily has been on faculty teaching voice at Southwestern College, Washington State University, and Wichita State University and maintains a private studio. Regionally Emily's students perform with Music Theatre Wichita, Wichita Grand Opera, Wichita Chorale, Crown Uptown, the Forum, and Roxy's. Her students are nationally competitive, having won awards through KCATF and NATS. Emily has been featured as a soloist with the Mid-Columbia Symphony, Wichita Symphony Orchestra, Wichita Choral Society, Opera Kansas, Hartford Opera Theater, Connecticut Concert Opera, Idaho Washington Symphony, and the Palouse Choral Society. Emily holds music degrees from California State University-Hayward, Washington State University-Pullman, and the University of Hartford.